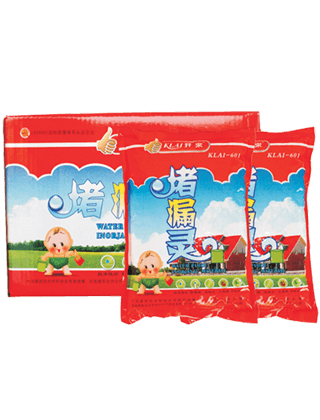 Description KLAI-601 Inorganic waterproof and leakage-preventing materials is the absorption of foreign advanced technology and retains the advantages of similar products at home and abroad, developed efficient inorganic waterproof plugging material, includes Quick-setting(mainly for leakage preventing )and Slow-setting(mainly for moistureproof, seepage)
Feature (1)non-toxic,odorless,non inflammable,suitable for drinking water construction.
(2)In the wet surface of the base construction, positive side and back surface can be the construction,easy construction.
(3)moistureproof, seepage,quick plugging
(4)The time for plugging concretion could be selected,waterproof adhesive once done,strength adhesive, good anti-seepage property.
(5)Integrated with the base,no ageing,good waterproof performance.