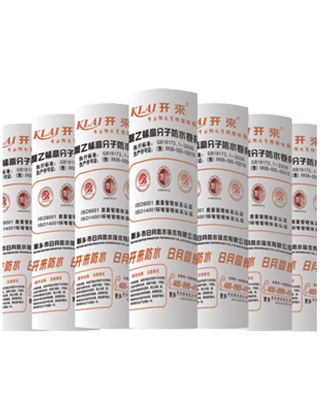 Description KLAI-105 polyethylene propylene(Polyester) waterproof membrane is made out of the nascent polyethylene synthetic polymeric material combined with anti-aging agent,
stabilizers, adhesion promotor and high strength new propylene polyester long fiber free-weaving fabric,automated production line by one-step processing.

Feature 1)could be adhered with various material,especially adhere with cement in Solidification Process, as long as no water on the surface,the construction can be done.
2)good comprehensive properties and tensile strength
3)good impermeability and Low temperature flexibility,small coefficient of expansion,adhere easily, small friction factor, could be used into sands directly,the performance has good stability and reliability
4)non-toxic, no pollution, green environmental protection product.