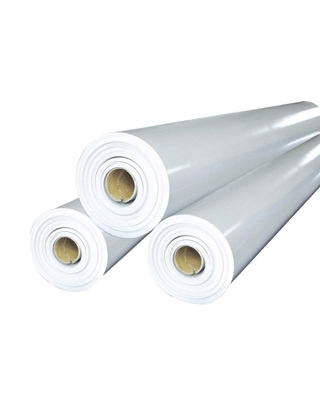 Description Polyvinyl chloride plastic(PCV) Waterproof membrane is a new polymer waterproof membrane which is made from polyvinyl chloride resin, and mixed with plasticizer,filler,antioxygen,ultraviolet absorber and other auxiliaries.
Classified:
- H- Homogeneous PVC membrane
- L- PVC membrane with fabric backing
- P- Reinforced with polyester felt
- G Glass fiber reinforced membrane
- GL Glass fiber reinforced with fabric backing membrane
Feature (1)High tensile strength, good elongation and dimensional stability.
(2)Waterproofing performance will not be effected by major structural settlement,ground water seepage could be prevented effectively.
(3)Excellent aging resistance,long lifetime,no pollution.
(4)Welding installation. Joints are solid and environment friendly,
(5)-25℃ has good flexibility.
(6)The surface could reflect ultraviolet irradiation,low temperature.
(7)Good plasticity, easy and suitable for details installation.