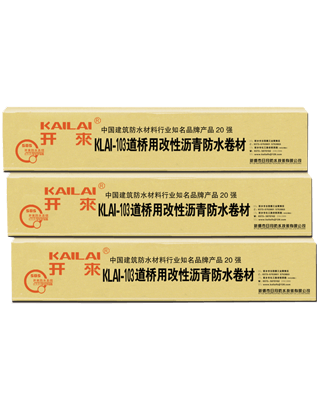 Description KLAI-103 Modified bituminous waterproof sheet for road&bridge are specially designed for road and bridge engineering waterproof of municipal transport construction,it use Stylene-Butadiene-Stylene(SBS) or atactic polypropylene (APP,APAP) as main material, by adding assistant agent,the upper surface is coated with fine sand,mineral particle or polyethylene film,the lower surface is coated with fine sand and polyethylene film.

-Classified by construction:Self-adhesive application(Z),Hot-melt(R) or hot melt adhesive (J) application
-The R or J classified by material:SBS, APP
-APP classified by different paving structure:Type Ⅰ and Type Ⅱ
-Classified by upper surface materials:Fine sand (S)
-Classified by upper surface materials:Polyethylene film (PE),Fine sand (S)
Feature (1)It own the feature of both APP and SBS
(2)Excellent heat resistance and high temperature shearing properties, it can guarantee the waterproof layer will not be damaged when process high temperature asphalt concrete pavement,
(3)Strong resistance to rupture,strong resistance to construction equipment's nude roller compaction.
(4)Good impermeability, strong resistance to the traffic vehicle's interaction force and dynamic liquid pressure.
(5)Strong tensile strength, elongation and adhesive with concrete.
It has good aging resistant, freezing salt resistant, acid and alkali reaction resistant, and a long life durability.