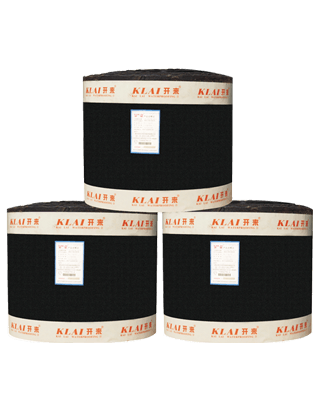 Description KLAI-106 High-speed rail special waterproof membrane for railway&bridge is developed in order to satisfy the high strength and dynamic loading environment,with long fiber polyester tire base felt,SBS as modifier,supplemented by various auxiliary modifier which is combined with the function of increase bonding performance.The cover material is modified bitumen,both sides covered with fine sand as isolation materials,and then composite with scientific bias-base design.
Feature (1)Can be strongly bonding with concrete,no bubble caused,good water permeability;
(2)The membrance has a strong tensile strength in vertical or horizontal direction,high elongation rate,good resistance to high temperature,anti-rabbing breaking ability to with stand repeated grind&puncture of equipment in the prime construction period,and also well withstand the repeated action of the car driving.
(3)Endurable at cold environment,resistance to alkali and salt,rreezing thawing action,anti aging and anti fatigue,anti crack deformation ability etc;
(4)The construction performence is good,adpot hot melt method construction,the operation is convenient,save time,can effectively ensure the normal survice life of railway bridge.